About us
Hello, Perfect Paws opened in its current location on July 1, 2014. We are an open concept grooming salon for dogs, cats and the occasional rabbit. We specialize in personalized grooming services for your pet. Our groomers schedule time especially for your pet and often there are four or fewer pets in the salon at one time. We will try our best to make your pet's spa day a pleasant one, by minimizing the number of pets in the salon at any one time, patient and knowledgeable handling, and a clean environment. We provide short walks to dogs requiring lengthy grooms as well as water and treats if allowed. Our Groomers: Attend grooming seminars and trade shows to keep educated on the latest techniques and products to better serve our clients.
Gina – has been grooming pets for 40 years. She specializes in poodles and other breeds where hand scissoring is requested or required. Gina owned her first salon (Gina's Dog Grooming, 1975-1978) in Cranston Rhode Island. She has since worked in salons in Wakefield, Narragansett, and Providence, before opening Perfect Paws.
Kaitlynn – has been grooming for six years. Her specialty is large breed dogs. Kaitlynn adds a special touch to Golden Retrievers, Labrador Retrievers, Collies, and Newfoundlands among others. Her deshedding methods really cut down on hair around the house.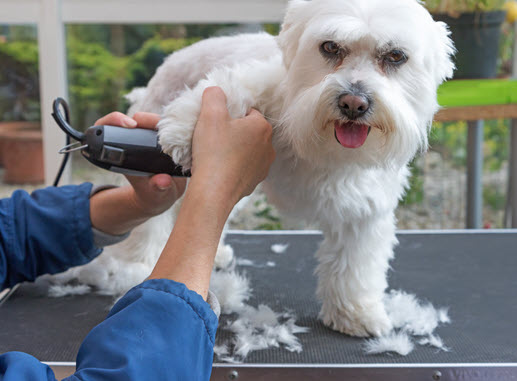 Kim Falcone,
"I took my little rabbit, Jean Pierre aka Bun Bun to Perfect Paws today for a brush out and nail trim and oh he looks so groomed!! Thanks, Gina!"
5 Star Review

Jim Graham,
"Ozzie just had his first appointment. WOW! He looks and smells GREAT! Not only that, the fast, knowledgeable and friendly service is worth its weight in gold. Love...Love...LOVE PERFECT PAWS. THANK YOU GINA!"
5 Star Review