Grooming
Our Services
Perfect Paws accepts walk-in nail trims. Full grooms on most breeds require pre-booked appointments.
What does a full groom include?
You can expect your dog to be bathed in quality shampoo, up to two lathers, and conditioned when hair type requires it. We clean ears and trim nails. Your dog will be dried using a variety of methods: high velocity dryer, stand dryer and cage dryers. Dogs with undercoat or long hair will be hand dried and brushed out. Breeds requesting a haircut will be finished using clippers and hand scissoring. The hair between paw pads is trimmed and genital area trimmed. Deshedding and dematting are included only when they do not exceed 10 minutes of groom time, otherwise there is an additional charge. We include bows/ bandana and cologne at no additional charge.
Cats in for a full groom will receive a nail trim, thorough bath and fluff dry. Ears are cleaned and face folds are wiped out using saline solution. Lion clips and comb cuts are available. Matted cats will be clipped short. Cats are taken on a case by case basis. We do not groom aggressive cats.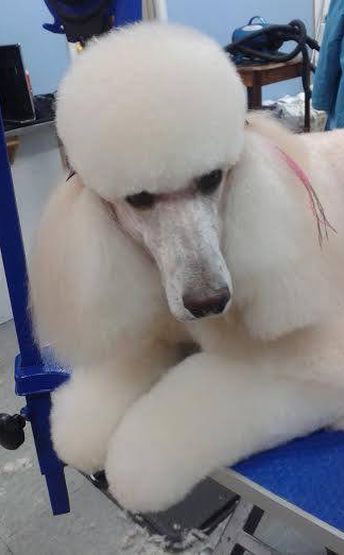 Pricing
We are unable to provide exact fees for grooming your pet as each one is individual. Full grooms range from $25 for a Chihuahua to $150 for dogs 100 pounds plus with a long double coat. Please stop in with your pet if possible to get an estimate. We can usually give you a range for specific breeds, but final fee is determined by a combination of time, condition and behavior. Clients who pre-book their pet within 4-6 weeks can expect a consistent fee, while infrequently groomed pets can expect higher fees.
Additional Services
Nail trim
$12
Nail trim with dremel or filing
$15
Deshedding
$1 per minute
Dematting*
$1 per minute
Face Trim
$10-$15
Nail polish
$5 front only, $10 front & back
Stencil design
$5-$15
Hand stripping
$1 per minute
Hand Scissor Cut
$10-$25 in addition to regular groom fee
Clean poodle feet
$5-$10 extra depending on size and behavior
*Severely matted dogs will be shaved down. Dematting is painful and is at the groomer's discretion. Fur will grow back and can be kept long with regular grooming appointments and home maintenance.